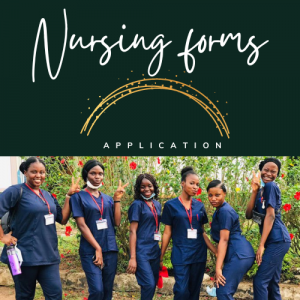 We are aware at mytopschools.com that South African Nursing Council admission form 2023/2024 is been searched by several aspirants wanting to Study in nursing institutions

It is a known fact that the number of nursing applicants yearly is on the rise.
Nursing is one of the most loved courses in the world and Nurses are the most caring of health care professionals.
Therefore, getting a Job as a nurse is no small feat as you would have already go through a lot of Exams and evidently performed well to be entertained or afforded the chance.
Nonetheless, going to a reputable institution of learning will relieve you of so many stress and that's why we are talking about this institution
today
About South African Nursing Council
In the Republic of South Africa, the South African Nursing Council is in charge of establishing and maintaining nursing education and practice standards. The Nursing Act of 1944 (Act No. 45 of 1944) established it as a self-governing, financially self-sufficient statutory entity, which is now governed by the Nursing Act of 2005. (2005 Act No. 33).
Under Section 3 of the Nursing Act, 2005, the Nursing Council is responsible for developing, improving, and controlling conditions, standards, and quality of nursing education and training.
Section 4 of the Nursing Act governs nursing education institution accreditation and inspection, as well as the monitoring of assessments performed by certified institutions, the administration of nursing examinations, and the granting of degrees and certificates.
Section 58(1)(f) of the Nursing Act of 2005 allows for the development of regulations controlling qualifications and requirements that must be met before a person can be registered as a nursing practitioner (education and training regulations).
Schedule of Post Graduate Diploma
The following qualifiers of the Postgraduate Diploma are reflected as approved by the Nursing Council:
Clinical
Child Nursing
Community Health Nursing
Critical Care Nursing (Adult)
Critical Care Nursing (Child)
Emergency Nursing
Forensic Nursing
Infection Prevention and Control Nursing
Mental Health Nursing
Midwifery
Nephrology Nursing
Occupational Health Nursing
Oncology and Palliative Nursing
Ophthalmic Nursing
Orthopaedic Nursing
Perioperative Nursing
Primary Care Nursing
Non-Clinical
Health Services Management
Nursing Education
The Nursing Education Institutions are therefore expected to submit their programs in line with the above.
South African Nursing Council admission form
Access the admission forms on the official website of the council
How to apply
Visit https://www.sanc.co.za/education-and-training/ for further information. and sign up for a myNSFAS account.
When creating an account, you must provide the following data: username, password, ID number, cellphone number, and email address.
Then, using the username and password you provided, log in.
Click the "apply" button to finish the application process.
That's the much we can take on the topic "South African Nursing Council admission form 2023/2024".
Thanks For Reading
O3SCHOOLS TEAM
South African Schools Of Nursing Application Forms
All Saints Hospital Nursing admission form
Andries Vosloo Hospital Nursing admission form
Butterworth Hospital Nursing admission form
Dr Malizo Mpehle Memorial Hospital Nursing admission form
Fort Beaufort Hospital Nursing admission form
Glen Grey Hospital Nursing admission form
Madwaleni Hospital Nursing admission form
Madzikane KaZulu Memorial Hospital Nursing admission form
Midlands Hospital Nursing admission form
Nessie Knight Hospital Nursing admission form
Nompumelelo Hospital Nursing admission form
Settler's Hospital Nursing admission form
St Lucy's Hospital Nursing admission form
St Patrick's Hospital Nursing admission form
Umlamli /Empilisweni Complex Nursing admission form
Victoria Hospital Nursing admission form
Free State School of Nursing College admission form
Boitumelo Hospital Nursing admission form
Bongani Regional Hospital Nursing admission form
Dihlabeng Regional Hospital Nursing admission form
 Lilitha College of Nursing admission form
Dr J S Moroka Community Hospital Nursing admission form
Metsimaholo District Hospital Nursing admission form
Mofumahadi Manapo Mopeli Region Hospital Nursing admission form
Dora Nginza Hospital Nursing admission form
Military Hospital (SAMHS) Nursing admission form
Ann Latsky Nursing College admission form
Chris Hani Baragwanath Nursing College admission form
S G Lourens Nursing College admission form
KwaZulu -Natal College of Nursing admission form
Bethesda Hospital Nursing admission form
Ceza Hospital Nursing admission form
Church of Scotland Hospital Nursing admission form
Eshowe Hospital Nursing admission form
St Barnabas Hospital Nursing admission form
Hlabisa Hospital Nursing admission form
Manguzi Hospital Nursing admission form
Mbongolwane Hospital Nursing admission form
Mosvold Hospital Nursing admission form
Mseleni Hospital Nursing admission form
Nkandla Hospital Nursing admission form
Nkonjeni Hospital Nursing admission form
Rietvlei Hospital Nursing admission form
St Aidans Hospital Nursing admission form
Limpopo College of Nursing admission form
Dilokong Hospital Nursing admission form
Dr Machupe Mphahlele Memorial Nursing admission form
DS W F Knobel Hospital Nursing admission form
Elim Hospital Nursing admission form
Jane Furse Hospital Nursing admission form
Letaba Hospital Nursing admission form
Malamulele Hospital Nursing admission form
Maphutha Malatji Hospital Nursing admission form
Sekororo Hospital Nursing admission form
Seshego Hospital Nursing admission form
Siloam Hospital Nursing admission form
St Rita's Hospital Nursing admission form
Tshilidzini Hospital Nursing admission form
Voortrekker Hospital Nursing admission form
Warmbath Hospital Nursing admission form
Mpumalanga College of Nursing admission form
Bethal Hospital Nursing admission form
Ermelo Hospital Nursing admission form
Evander Hospital Nursing admission form
Piet Retief Hospital Nursing admission form
Rob Ferreira Hospital Nursing admission form
Tintswalo Hospital Nursing admission form
Witbank Hospital Nursing admission form
Henrietta Stockdale Nursing College admission form
Excelsius Nursing College admission form
Mmabatho Nursing College admission form
Moses Kotane Nursing admission form
Taung Community Hospital Nursing admission form
Thusong Hospital Nursing admission form
Witrand Hospital Nursing admission form
Western Cape College of Nursing admission form
Beaufort West Hospital Nursing admission form
George Hospital Nursing admission form
Groote Schuur Hospital Nursing admission form
Tygerberg Academic Hospital Nursing admission form
Western Cape Rehabilitation Centre admission form
Worcester Nursing admission form
South African Nursing Council admission form
South African Nursing Schools Requirements
South African Nursing Council requirements
Lilitha College of Nursing requirements
All Saints Hospital Nursing requirements
Andries Vosloo Hospital Nursing requirements
Butterworth Hospital Nursing requirements
Dr Malizo Mpehle Memorial Hospital Nursing requirements
Fort Beaufort Hospital Nursing requirements
Glen Grey Hospital Nursing requirements
Madwaleni Hospital Nursing requirements
Madzikane KaZulu Memorial Hospital Nursing requirements
Midlands Hospital Nursing requirements
Nessie Knight Hospital Nursing requirements
Nompumelelo Hospital Nursing requirements
Settler's Hospital Nursing requirements
St Barnabas Hospital Nursing requirements
St Lucy's Hospital Nursing requirements
St Patrick's Hospital Nursing requirements
Umlamli /Empilisweni Complex Nursing requirements
Victoria Hospital Nursing requirements
Free State School of Nursing College requirements
Boitumelo Hospital Nursing requirements
Bongani Regional Hospital Nursing requirements
Dihlabeng Regional Hospital Nursing requirements
Dr J S Moroka Community Hospital Nursing requirements
Metsimaholo District Hospital Nursing requirements
Dora Nginza Hospital Nursing requirements
Mofumahadi Manapo Mopeli Region Hospital Nursing requirements
Military Hospital (SAMHS) Nursing requirements
Ann Latsky Nursing College requirements
Chris Hani Baragwanath Nursing College requirements
S G Lourens Nursing College requirements
KwaZulu -Natal College of Nursing requirements
Bethesda Hospital Nursing requirements
Ceza Hospital Nursing requirements
Church of Scotland Hospital Nursing requirements
Eshowe Hospital Nursing requirements
Hlabisa Hospital Nursing requirements
Manguzi Hospital Nursing requirements
Mbongolwane Hospital Nursing requirements
Mosvold Hospital Nursing requirements
Mseleni Hospital Nursing requirements
Nkandla Hospital Nursing requirements
Nkonjeni Hospital Nursing requirements
Rietvlei Hospital Nursing requirements
St Aidans Hospital Nursing requirements
Limpopo College of Nursing requirements
Dilokong Hospital Nursing requirements
Dr Machupe Mphahlele Memorial Nursing requirements
DS W F Knobel Hospital Nursing requirements
Elim Hospital Nursing requirements
Jane Furse Hospital Nursing requirements
Letaba Hospital Nursing requirements
Malamulele Hospital Nursing requirements
Maphutha Malatji Hospital Nursing requirements
Sekororo Hospital Nursing requirements
Seshego Hospital Nursing requirements
Siloam Hospital Nursing requirements
St Rita's Hospital Nursing requirements
Tshilidzini Hospital Nursing requirements
Voortrekker Hospital Nursing requirements
Warmbath Hospital Nursing requirements
Mpumalanga College of Nursing requirements
Bethal Hospital Nursing requirements
Ermelo Hospital Nursing requirements
Piet Retief Hospital Nursing requirements
Evander Hospital Nursing requirements
Rob Ferreira Hospital Nursing requirements
Tintswalo Hospital Nursing requirements
Witbank Hospital Nursing requirements
Henrietta Stockdale Nursing College requirements
Excelsius Nursing College requirements
Mmabatho Nursing College requirements
Moses Kotane Nursing requirements
Taung Community Hospital Nursing requirements
Thusong Hospital Nursing requirements
Witrand Hospital Nursing requirements
Western Cape College of Nursing requirements
Beaufort West Hospital Nursing requirements
George Hospital Nursing Requirements
Groote Schuur Hospital Nursing requirements
Tygerberg Academic Hospital Nursing requirements
Western Cape Rehabilitation Centre requirements
Worcester Nursing requirements
Nursing Colleges In the United States Of America (USA) for 2023/2024
Denver College of Nursing and Tuition fees

Saint Francis Medical Center College of Nursing
Nightingale College & Tuition fees
Lakeview College of Nursing & Tuition fees

Saint Anthony College of Nursing & Tuition Fees

North-West College – Pomona & Tuition Fees
Galen College of Nursing & Tuition Fees
Chamberlain University College of Nursing
Standard Healthcare Services,College of Nursing
Sentara College of Health Sciences
Goldfarb School of Nursing at Barnes-Jewish College
Eagle Gate College Murray Campus
Galen College of Nursing-Louisville, KY
Academy For Nursing And Health Occupations
Research College of Nursing & Tuition Fees

MGH Institute of Health Professions
Chamberlain University College of Nursing-Vienna, VA
Bon Secours Memorial College of Nursing
Maine College of Health Professions
Chamberlain University College of Nursing-Atlanta, GA
Carolinas College of Health Sciences
Chamberlain University College of Nursing-roy, MI
Chamberlain University College of Nursing-Jacksonville, FL
College of Nursing and Allied Health
Chamberlain University College of Nursing-Addison, IL
Cabarrus College of Health Sciences & Tuition Fees
Chamberlain University College of Nursing-Indianapolis, IN
Lawrence Memorial/ Regis College Nursing Program & Tuition Fees
Saint Michael College of Allied Health
Good Samaritan College-Nursing & Tuition Fees
Phillips School of Nursing at Mount Sinai Beth Israel & Tuition Fees

Samaritan Hospital School of Nursing
Labouré College of Healthcare & Tuition Fees
Fully Funded Nursing Scholarships in United States for 2023/2024
A.T. Anderson Memorial Scholarship
Addiction Awareness Scholarship
Advantage Medical Staffing Scholarship
Alumni Association Scholarship Fund of the Former Albert Einstein Medical Center Nursing School of Philadelphia
American Academy of CPR & First Aid, Inc. Scholarship
American Addiction Center's (AAC) Behavioral Health Academic Scholarship Program
American Association of Colleges of Nursing
American Association of Critical-Care Nurses
American Association of Occupational Health Nurses Professional Development Scholarships
American Association of Post-Acute Care Nursing (AAPACN)
American Indian Nurse Scholarship Award Program
ANNA-American Nephrology Nurses Association Career Mobility Scholarships
APIASF/Southern California Edison Scholarship
ARC of Washington Trust Fund Research Awards
Arizona Public Service Navajo Scholars Program
Ark Behavioral Health Scholarship
Army Nurse Corps Association (ANCA) Education Fund
Asian American/Pacific Islander Nurses Association (AAPINA) Scholarship
Association of periOperative Registered Nurses (AORN) Foundation Nursing Student Degree Scholarship
Association of Rehabilitation Nurses (ARN) BSN Scholarship
Barbara Forfar Nursing Scholarship
Barbara Rhomberg Nursing Scholarship
Bethesda Lutheran Communities Lutheran Student Scholastic & Service Scholarship
Caroline E. Holt Nursing Scholarship
Charlotte McGuire Scholarships
Church of the Brethren Nursing Scholarships
Creative Biolabs Scholarship Program
Delaware Nursing Incentive Program
Drug-Rehabs.org Healthcare Scholarship
ExceptionalNurse.com College Scholarships
Fine-Tune Your Mind Scholarship Program
FNSNA Annual Scholarship Program
Fontana Transport Inc Scholars Program
Franklin D. Boyce Annual Health Scholarship
Genesis Healthcare Foundation Scholarship
George B. Boland Nurses Training Scholarship
Golden State Nursing Foundation Scholarship
Graduate and Professional Scholarship Program – Maryland
Guidance Tech Leaders Scholarship
Hal and Jo Cohen Graduate Nursing Faculty Scholarship
Health Careers Scholarship Program
Health Resources and Services Administration's Native Hawaiian Health Scholarship Program
Healthcare Leaders Scholarship
Illinois AMVETS Sad Sacks Nursing Scholarships
Indian Health Service Scholarships
Intely Care Healthcare Heroes Scholarship
Irene and Daisy MacGregor Memorial Scholarship
James M. & Erma T. Freemont Scholarship Program
Josef Princ Memorial Scholarship
Judith C. Kelleher Memorial Scholarship
Kentucky Nursing Incentive Scholarship Fund
Landau's Make Lives Better Scholarship
Law Offices of Joseph J. Bogdan, LLC Healthcare Professional Scholarship
Lee Essie and Charlie McMillan, Jr. Medical Scholarship
Madeline Pickett Cogswell Nursing Scholarship
Marsha's Angels Scholarship Fund
Meland Foundation Nursing Scholarships
Mildred Nutting Nursing Scholarship
National Association for Hispanic Nurses (NAHN) Nursing Scholarships
National Association of Directors of Nursing Administration in Long Term Care – Stephanie Carroll Memorial Scholarship
National CPR Association Scholarship
National Eagle Scout Association STEM Scholarship
Native Hawaiian Health Scholarship Program
Naugatuck Valley Medical Scholarship Fund
Nellie Martin Carman Scholarship Fund
Nightingale Awards of Pennsylvania
Nurses Make a Difference Scholarship
Nursing Economic$ Foundation Scholarships
Parthenon WOC Student Scholarships
Perinatal Graduate Nursing Scholarships
Philippine Nurses Association of San Diego County Scholarship