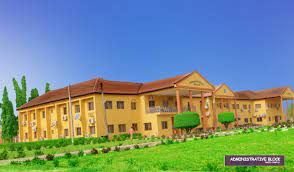 We are aware at mytopschools.com that Nasarawa State University Keffi NSUK Postgraduate Students Registration Guidelines 2022/2023 is been searched by several aspirants wanting to study in the University

This is to inform all students [both new and returning]
postgraduate students
that the registration guidelines for 2022/2023 academic session.
Registration Procedure for Fresh Students
Registration procedure shall be as follows:
Screening of candidate's documents at the Department/Faculty and School;
Payment of school fees and other charges;
Collection of registration materials, i.e. Students Information Form (SIF), Course Registration Form (CRF), Biometric ID Card Forms. Etc.;
Signing of all relevant documents such as CRF and SIF;
Collection and signing of admission letter at the School;
Submission of completed files at the Department and the School;
Issuance of student registration number; and
Biometric capturing and issuance of student identity card.
A fully registered Postgraduate Student's file must contain the following:
Signed Admission letter;
Signed screening form;
Photocopy of school fees receipt and other charges;
Fully signed CRF, SIF, and Biometric ID Card Form (original copy);
Photocopies of O/ Level and higher degree (s) certificates;
Photocopy of professional certificates (if any);
Photocopy of birth and indigene certificates; and
Any other relevant document. E.g. evidence of change of name.
Registration Procedure for Returning Students
Returning students are students already on the programme who are yet to graduate. It is expected that students register at the beginning of a new academic session until they graduate from the programme.
At the beginning of a new academic session, returning students are expected to pay school fees and other charges and proceed to the School for collection of CRF and Progress Report Forms (PRF). Each of these forms is expected to be signed and in the department and the School files.
Deferment Form
Should a student not find it convenient to run a programme in a particular semester or session, such a student is free to request for deferment, which must be backed up by a genuine reason and relevant documents. Requests for deferment should be made in an approved form (obtained at a fee) duly signed by the appropriate officers. Students seeking deferment of studies/admission must pay school fees and other charges as well as register before applying for the deferment. All medical reports (if any) are forwarded to the University's Director of Health Services for certification and recommendation. Request for deferment is recommended by the Board and approved by the Senate. All documents relating to deferment should be put in the student's file.
Change of Course Form
The School does not encourage change of course especially when the course given is the course the student applied for. If the request is considered genuine, the Dean of the school may grant approval based on the recommendations of the Head of Department and the Dean of the Faculty, subject to ratification by the Board. The application is made on appropriate form obtained at a fee. All documents relating to application for change of course should be put in the student's file.
Coursework and Examination
The Board shall, on the recommendation of the appropriate Departmental and Faculty Postgraduate Studies Committees, approve a course of study and/or research for each student.
Coursework/written examinations shall be conducted at end of the semester in which the courses are taught, except otherwise approved by the Board. The result is expected to be released before the end of the subsequent semester.
Examination shall take the form of written papers, oral examinations, practical, clinical, the submission of project, thesis and dissertation, any combination of these, or another form approved by the Senate. The continuous assessment of coursework shall be included in determining examination results.
In order to qualify to sit for a coursework examination, a student shall satisfy a minimum of 75% attendance of all scheduled lectures, tutorials, laboratories, clinics, field/studio practical/theatre training, etc. in the course.
Continuous assessment shall account for 30% of the aggregate mark in a course.
The grading of results in coursework examinations shall be as follows:
| | | |
| --- | --- | --- |
| Marks Point | Letter | Grade |
| 70 and above | A | 5 |
| 60-69 | B | 4 |
| 50-59 | C | 3 |
| 49 and below | F | 0 |
A student who fails at least twelve (12) credit units of courses registered within one academic session shall be required to withdraw from the University.
A student who fails less than twelve (12) units of the course registered at the end of one academic session shall be required to repeat the particular course(s) failed.
A student who fails in any course he is repeating shall be required to withdraw from the university.
There shall be no supplementary examinations for students.
If a student fails to take a scheduled examination without a valid reason, a grade of "F" (Fail) shall be returned for him and shall be used for any computation of the student's result. He may be allowed to repeat the course at the next available opportunity but subject to full registration.
Any student who fails to take a scheduled examination on account of illness as duly certified by the University's Director of Health Services or on account of other cogent reasons acceptable to the Board be allowed to take the examination at the next available opportunity.
A candidate who has passed a course shall not repeat such a course for the purpose of obtaining a higher score/grade.
Registration Guidelines
The period of registration shall be determined from year to year in accordance with prevailing circumstances.
The offer of admission made shall be provisional and individual candidates shall be required to accept the offer of admission in writing on the prescribed forms and pay the prescribed acceptance fee within the specified period.
Upon acceptance of the offer of provisional admission, each candidate shall be given one month provisional registration by the School after which admission elapses.
Candidates offered admissions may register on payment of the appropriate fees and on the production of all the originals of the certificates claimed in their application forms.
In order to remain a bona-fide postgraduate student, candidates shall renew their registration with the School at the beginning of each academic year until they are examined on their project report/dissertation/thesis, subject to any other condition provided for in these regulations.
A candidate may register for full-time programme as applicable and convenient.
Members of staff of the University, including teaching staff and research fellows who possess the necessary qualifications may be admitted for part-time study.
Any candidate who is engaged in full employment or in any work other than relevant advanced study for more than twelve (12) hours a week shall register for part-time programme. Any candidate who violates this provision shall forfeit his admission.
Postgraduate diploma, master's degree and doctorate candidates must register within the stipulated period. Failure to register within the stipulated period shall be deemed to be a case of late registration and shall attract the payment of late registration fees as approved by the University.
Any postgraduate student who fails to renew his or her registration for two consecutive sessions shall be deemed to have voluntarily withdrawn from his programme.
Postgraduate students shall not, except with the expressed permission of the School and the Senate, register and pursue more than one postgraduate programme of the University simultaneously.
If it is discovered at any point in the programme that a candidate had gained admission illegally (e.g. inadequate entry qualifications, falsification of documents, etc.), the admission shall be null and void. Such candidates may be handed over to the law enforcement agents for appropriate disciplinary action.
That's the much we can take on the topic "Nasarawa State University Keffi NSUK Postgraduate Students Registration Guidelines 2022/2023".
Thanks For Reading
MYTOPSCHOOLS
RELATED POSTS TO Nasarawa State University Keffi NSUK
Nasarawa State University Keffi NSUK Part-Time Degree Admission Form
Nasarawa State University Keffi NSUK Supplementary Admission List
Nasarawa State University Keffi NSUK Convocation Ceremony Programme of Events
Nasarawa State University Keffi NSUK Post-UTME & DE Screening Form
Nasarawa State University Keffi NSUK Acceptance Fee Payment Guidelines
Nasarawa State University Keffi NSUK Pre-Degree/Remedial & IJMB Admission List
Nasarawa State University Keffi NSUK Part-Time Degree Admission List
Nasarawa State University Keffi NSUK UTME Admission Guidelines
Nasarawa State University Keffi NSUK School Fees Payment Guidelines
Nasarawa State University Keffi NSUK Registration & Clearance Guidelines
Nasarawa State University Keffi NSUK Admission List
Nasarawa State University Keffi NSUK School Fees
Nasarawa State University Keffi NSUK Matriculation Ceremony Date
Nasarawa State University Keffi NSUK Resumption Date
Nasarawa State University Keffi NSUK Sandwich LVT Admission Form
Nasarawa State University Keffi NSUK Academic Calendar
Nasarawa State University Keffi NSUK Postgraduate Students Registration Guidelines
Nasarawa State University Keffi NSUK Postgraduate Admission List
Nasarawa State University Keffi NSUK Postgraduate Admission Form
Nasarawa State University Keffi NSUK Postgraduate Courses
Nasarawa State University Keffi NSUK Pre-Degree & IJMB Admission Form
Nasarawa State University Keffi NSUK IJMB & Remedial Resumption Date
Nasarawa State University Keffi NSUK Professional Certificate in Education Admission Form
Nasarawa State University Keffi NSUK Part-Time Degree Screening Schedule
Fresh List Of Courses Offered In NSUK (Nasarawa State University Keffi}
Nasarawa State University Keffi NSUK Cut Off Mark
READ THIS RELATED JAMB POSTS TO KNOW MORE ABOUT JAMB
Price, Selling Points of JAMB UTME E-Pin (Scratch Card)
Joint Admissions and Matriculation Board JAMB Guidelines For Admission
Joint Admissions and Matriculation Board JAMB Cut-Off Marks Admission Exercise
Free JAMB Past Questions for  (PDF Format) Download Here
Joint Admissions & Matriculation Board JAMB Brochure
JAMB Subject Combinations for All Courses
Joint Admission and Matriculation Board JAMB Admission Status Checking Portal for UTME & DE Candidates  & Past Years
JAMB CAPS How to ACCEPT or REJECT Admission Offer
How to Print JAMB Original Result Slip for All Years
How to Easily Register JAMB Using Interswitch
Joint Admissions and Matriculation Board JAMB Mock Examination for UTME Candidates
JAMB Profile Code Generation & Purchase of e-Pin for New & Previously Used Numbers
Joint Admission Matriculation Board JAMB Institution Matriculation List  (JAMB CAPS)
How to Create JAMB Online Profile
How to Buy JAMB ePINS Via Interswitch
UTME: Joint Admissions and Matriculation Board JAMB List of Prohibited Items in Exam Hall
Joint Admission and Matriculation Board JAMB Admission Letter for UTME and Direct Entry  and Years Downward]
JAMB Direct Entry Form Approved Selling Points
JAMB Direct Entry Registration  : Instructions & Guidelines
AMB Direct Entry Registration Centres in Nigeria
Joint Admissions and Matriculation Board JAMB Change of Course & Institution / Data Correction Procedure 2021
JAMB Subject Combinations for Courses in the Arts
JAMB Subject Combinations for Courses in the Social Sciences
JAMB Subject Combinations for Courses in the Sciences
JAMB Recommended Books for Music
JAMB Recommended Books for Mathematics
Requirements to Start a JAMB CBT Centre
Joint Admissions and Matriculation Board JAMB Form  – Registration Instructions and Guidelines