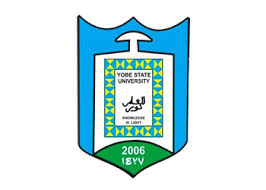 We are aware at mytopschools.com that Fresh List of Courses Offered In Yobe State University (YSU) is been searched by several aspirants wanting to study in the University as well as related searches such as medical courses in yobe state university, yobe state university faculties, yobe state university mbbs, yobe state university medicine and surgery, yobe state university faculty of medicine, medicine in yobe state university, yobe state university college of medical science, yobe state university cut off mark.
The noble idea of establishing a state university in Damaturu was recommended to the state government by the committee on blue print for the educational development of Yobe state, its sub-committee on higher education submitted the report stating the desirability for a university in Yobe.
Following the NUC's encouragement of state and private organization to establish viable universities and the rapid growth of post primary and tertiary institutions in the state became obvious that large number of potential university candidates would emerge seeking admission into the university in Yobe. The state under the leadership of his Excellency governor Bukar Abba Ibrahim decided to establish a university named Bukar Abba Ibrahim University and immediately constituted the planning committee with Professor Muhammad Nur Alkali as Chairman.
The committee stated to plan the take-off of the university in January 2007. The academic brief, the law and master plan were produced and approved by the national universities commission (NUC) the university is planned for a 25 year period and provides the details of the vision, mission, philosophy and objectives, administrative structure and research policy of the university. The brief captures the faculties, departments and courses that the university shall establish at its inception and at its full maturity over a twenty-five year period. It also captures the number of staff and students that shall populate the university in the first ten years of its existence as well as the resources required to run the university during the same period
Yobe State University is located in Damaturu, Yobe State, Nigeria. It was founded in 2006. The institution has grown steadily and currently offers programmes under several faculties, like; Faculty of Arts, Social & Management Science, Faculty of Science and Faculty of Law.
Fresh List of Courses Offered In Yobe State University
ACCOUNTING
ARABIC AND ISLAMIC STUDIES
ARABIC STUDIES
BIOLOGICAL SCIENCES
BIOLOGY
BUSINESS ADMINISTRATION
BUSINESS EDUCATION
CHEMISTRY
COMPUTER SCIENCE
ECONOMICS
EDUCATION AND ARABIC
EDUCATION AND BIOLOGY
EDUCATION AND CHEMISTRY
EDUCATION AND ECONOMICS
EDUCATION AND ENGLISH LANGUAGE
EDUCATION AND GEOGRAPHY
EDUCATION AND HAUSA
EDUCATION AND HISTORY
EDUCATION AND ISLAMIC STUDIES
EDUCATION AND PHYSICS
EDUCATION ARTS
ENGLISH LANGUAGE
GEOGRAPHY
HAUSA
HISTORY
ISLAMIC STUDIES
LAW
MATHEMATICS
MEDICINE AND SURGERY
PHYSICS
POLITICAL SCIENCE
PUBLIC ADMINISTRATION
SCIENCE EDUCATION
SOCIOLOGY
SOCIOLOGY AND ANTHROPLOGY
STATISTICS
That's the much we can take on the topic "Fresh List of Courses Offered In Yobe State University (YSU)".
Thanks For Reading
MYTOPSCHOOLS TEAM