Fresh List Of Courses Offered in ABU Zaria (Ahmadu Bello University)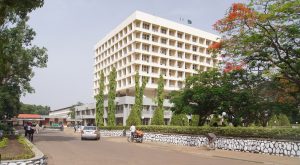 We are aware at mytopschools.com that Fresh List Of Courses Offered in ABU Zaria (Ahmadu Bello University) is been searched by several aspirants wanting to study in the University as well as related searches such as abu zaria courses, abu zaria courses and requirement, abu zaria admission, abu zaria post utme, abu zaria latest news on admission, abu zaria courses and cut off mark, abu zaria registration for returning student, abu zaria registration fees, then you are in the right place.
Ahmadu Bello University (ABU) is a federal government research university in Zaria, Kaduna State Nigeria. ABU was founded on 4 October 1962, as the University of Northern Nigeria
The university operates two campuses: Samaru (main) and Kongo in Zaria. There is pre-degree school in Funtua a few kilometres from main campus owned by the university. The Samaru campus houses the administrative offices and the faculties of physical sciences, life sciences, social sciences, arts and languages, education, environmental design, engineering, medical sciences, agricultural sciences and research facilities. The Kongo campus hosts the faculties of Law and Administration. The Faculty of Administration consists of Accounting, Business Administration, Local Government and Development Studies and Public Administration Departments. Additionally, the university is responsible for other institutions and programmes at other locations.
It is named after the Sardauna of Sokoto, Alhaji Sir Ahmadu Bello, the first premier of Northern Nigeria.
The university runs a wide variety of undergraduate and graduate programmes (and offers associate degrees and vocational and remedial programmes). It has a large medical programme with its own ABU Teaching Hospital, one of the largest teaching hospitals in Nigeria and Africa.
The ABU has grown to become the largest, and the most influential and diverse university in Nigeria. Consisting of eighty-two (82) Academic Departments, twelve (12) Faculties, and twelve (12) Research Institutes and Specialized Centres, the University offers undergraduate and postgraduate courses in such diverse fields as Agriculture, Public and Business Administration, Engineering, Environmental Design, Education, Biological and Physical Sciences, Medical and Pharmaceutical Sciences, the Humanities, Law and Social Sciences
Fresh List Of Courses Offered in ABU Zaria
Administration
Accounting
Business Administration
L G & Development Studies
Public Administration
Agriculture
Agric Econs & Rural Sociology
Agronomy
Animal Science
Crop Protection
Plant Science
Soil Science
Arts
African Languages and Cultures
Arabic
Archeology
English
French
Hausa
History
Theatre & Performing Arts
Education
Arts and Social Science Education
Educational Foundation & Curriculum
Educational Psychology & Counselling
Library and Information Science
Physical and Health Education
Science Education
Vocational and Technical Education
Engineering
Agricultural Engineering
Chemical Engineering
Civil Engineering
Electrical & Computer Engineering
Mechanical Engineering
Metallurgical Engineering
Water Resources & Environmental Engineering
Environmental Design
Architecture
Building
Fine Arts
Geomatics
Industrial Design
Quantity Surveying
Urban and Regional Planning
Law
Civil Law
Commercial Law
Private Law
Public Law
Sharia Law
Medicine
Anaesthesia
Chemical Pathology
Community Medicine
Dental Surgery
Haematology and Blood Transfusion
Human Anatomy
Human Physiology
Medical Microbiology
Medicine
Nursing Science
Obsterics and Gynecology
Ophthalmology
Paediatrics
Pathology (Morbid Anatomy)
Psychiatrics
Radiology
Surgery
Traumatic and Orthopeadic Surgery
Pharmaceutical Science
Clinical Pharmacy & Pharmacy Practice
Pharmaceutical & Medicinal Chemistry
Pharmaceutics & Pharmaceutical Microbiology
Pharmacognosy & Drug Development
Pharmacology and Therapeutics
Science
Biochemistry
Biological Sciences
Botany
Chemistry
Geography
Geology
Mathematics
Microbiology
Physics
Textile Science & Technology
Social Science
Economics
Mass Communication
Political Science
Sociology
Veterinary Medicine
Theriogenology and Production
Veterinary Anatomy
Veterinary Medicine
Veterinary Parasitology and Entomology
Veterinary Pathology and Microbiology
Veterinary Pharmacology and Toxicology
Veterinary Physiology
Veterinary Public Health and Preventive Medicine
Veterinary Surgery and Medicine
 That's the much we can take on the topic "Fresh List Of Courses Offered in ABU Zaria (Ahmadu Bello University)".

Thanks For Reading
MYTOPSCHOOLS