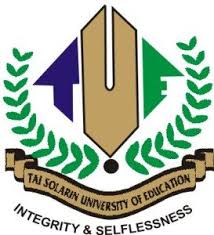 We are aware at mytopschools.com that Fresh List of Courses Offered In TASUED (Tai Solarin University of Education Ijebu Ode) is been searched by several aspirants wanting to study in the University as well as related searches such as list of art courses offered in tasued, list of science courses offered in tasued, tasued courses and fees, tasued courses cut off mark, tai solarin university of education school fees, tai solarin university courses and cut off mark, tai solarin college of education, tasued admission.
The university was named after the Nigerian educational administrator and human rights activist Tai Solarin (1922–1994). It is the second university approved in Ogun State, and the 76th approved university in Nigeria. It was proclaimed a full-fledged university by the former governor of Ogun state, His Excellency Otunba Gbenga Daniel on 29 January 2005. The former Tai Solarin College of Education was approved by the Nigerian Universities Commission in 2005 as a university after a thorough analysis and appraisal of its facilities' academic brief.
Tai Solarin University of Education (TASUED, pronounced TARSUD), established on 29 January 2005 by the administration of His Excellency, Otunba Gbenga Daniel, is a unique tertiary institution in the country. Apart from being the first of its kind in Nigeria, she also shares a unique feature as the only institution in the country that offers both the bachelor's degree programmes in education (B.Ed.) and trains National Certificate of Education (NCE) graduates within the same academic environment.
TASUED is a transformation of the then Tai Solarin College of Education (TASCE) that was formerly Ogun State College of Education established in 1978. Students and staff statistics as at January 2005 showed that there were 12,544 both N.C. E. and Degree (full-time and part-time) with a staff strength of about 669 of which 43% were teaching staff in all the 8 Schools in the College. The then College was affiliated to University of Ibadan for the B.Ed programme and also worked out an affiliation arrangement with Adekunle Ajasin University, Akungba – Akoko, for a programme leading to the award of B.Sc./B.Tech. plus Postgraduate Diploma in Education. The qualification status of the lecturers revealed that there were 14 or 3.9% with Ph.D
Colleges
CLICK HERE TO DOWNLOAD APP NOW
The five colleges in the university includes:
College of Science and Information Technology (COSIT)
College of Specialised and Professional Education (COSPED)
College of Social and Management Sciences (COSMAS)
College of Humanities (COHUM)
College of Vocational and Technology Education (COVTED)
College of Postgraduate Studies
Fresh List of Courses Offered In TASUED
CLICK HERE TO DOWNLOAD APP NOW
ADULT EDUCATION
AGRICULTURAL PRODUCATION AND MANAGEMENT SCIENCE AND EDUCATION
BUSINESS EDUCATION
CREATIVE ARTS
EARLY CHILDHOOD EDUCATION
EDUCATION AND ACCOUNTANCY
EDUCATION AND BIOLOGY
EDUCATION AND CHEMISTRY
EDUCATION AND CHRISTIAN RELIGIOUS STUDIES
EDUCATION AND COMPUTER SCIENCE
EDUCATION AND ECONOMICS
EDUCATION AND ENGLISH LANGUAGE
EDUCATION AND FRENCH
EDUCATION AND GEOGRAPHY
EDUCATION AND HISTORY
EDUCATION AND INTEGRATED SCIENCE
EDUCATION AND ISLAMIC STUDIES
EDUCATION AND MATHEMATICS
EDUCATION AND PHYSICS
EDUCATION AND POLITICAL SCIENCE
EDUCATION AND SOCIAL STUDIES
EDUCATION AND SOCIOLOGY
EDUCATION AND YORUBA
EDUCATION TECHNOLOGY
EDUCATIONAL MANAGEMENT
GUIDANCE AND COUNSELLING
HEALTH EDUCATION
HOME ECONOMICS AND HOTEL MANAGEMENT AND EDUCATION
HUMAN KINETICS
LIBRARY AND INFORMATION SCIENCE
SECRETARIAL ADMINISTRATION AND EDUCATION
TECHNICAL EDUCATION
TRANSPORT PLANNING AND MANAGEMENT AND EDUCATION TPM
VOCATIONAL AND TECHNICAL EDUCATION
That's the much we can take on the topic "Fresh List of Courses Offered In TASUED (Tai Solarin University of Education Ijebu Ode)".
Thanks For Reading
MYTOPSCHOOLS TEAM
RELATED POSTS TO TAI SOLARIN UNIVERSITY OF EDUCATION (TASUED)
Tai Solarin University of Education Ijebu Ode TASUED Post-UTME Screening Form
Tai Solarin University of Education Ijebu Ode TASUED Admission List
Tai Solarin University of Education Ijebu Ode TASUED Post-UTME Result
Tai Solarin University of Education Ijebu Ode TASUED Convocation Ceremony Programme of Events
Tai Solarin University of Education Ijebu Ode TASUED Registration & Clearance Requirements
Tai Solarin University of Education Ijebu Ode TASUED Certificate & Diploma Course Admission Form
Tai Solarin University of Education Ijebu Ode TASUED Matriculation Ceremony Date
Tai Solarin University of Education Ijebu Ode TASUED Post-UTME Screening Date
Tai Solarin University of Education Ijebu Ode TASUED Transcript, Result Verification & Certificate Collection Guidelines
Tai Solarin University of Education Ijebu Ode TASUED Part-Time & Weekend Degree Form
Tai Solarin University of Education Ijebu Ode TASUED School Fees Payment Deadline
Tai Solarin University of Education Ijebu Ode TASUED Academic Calendar
Tai Solarin University of Education Ijebu Ode TASUED Part-Time Degree Screening Date
Tai Solarin University of Education Ijebu Ode TASUED Postgraduate Courses
Tai Solarin University of Education Ijebu Ode TASUED Postgraduate (PG) Admission Form
Tai Solarin University of Education Ijebu Ode TASUED Resumption Date
Tai Solarin University of Education Ijebu Ode TASUED Postgraduate Resumption Date
Tai Solarin University of Education Ijebu Ode TASUED JUPEB Form
Tai Solarin University of Education Ijebu Ode TASUED Technology Innovation Hub TTI-Hub Training Form
Tai Solarin University of Education Ijebu Ode TASUED School Fees
Fresh List of Courses Offered In TASUED (Tai Solarin University of Education Ijebu Ode)
Tai Solarin University of Education TASUED Cut Off Mark
READ THIS RELATED JAMB POSTS TO KNOW MORE ABOUT JAMB
Price, Selling Points of JAMB UTME E-Pin (Scratch Card)
Joint Admissions and Matriculation Board JAMB Guidelines For Admission
Joint Admissions and Matriculation Board JAMB Cut-Off Marks Admission Exercise
Free JAMB Past Questions for  (PDF Format) Download Here
Joint Admissions & Matriculation Board JAMB Brochure
JAMB Subject Combinations for All Courses
Joint Admission and Matriculation Board JAMB Admission Status Checking Portal for UTME & DE Candidates  & Past Years
JAMB CAPS How to ACCEPT or REJECT Admission Offer
How to Print JAMB Original Result Slip for All Years
How to Easily Register JAMB Using Interswitch
Joint Admissions and Matriculation Board JAMB Mock Examination for UTME Candidates
JAMB Profile Code Generation & Purchase of e-Pin for New & Previously Used Numbers
Joint Admission Matriculation Board JAMB Institution Matriculation List  (JAMB CAPS)
How to Create JAMB Online Profile
How to Buy JAMB ePINS Via Interswitch
UTME: Joint Admissions and Matriculation Board JAMB List of Prohibited Items in Exam Hall
Joint Admission and Matriculation Board JAMB Admission Letter for UTME and Direct Entry  and Years Downward]
JAMB Direct Entry Form Approved Selling Points
JAMB Direct Entry Registration  : Instructions & Guidelines
AMB Direct Entry Registration Centres in Nigeria
Joint Admissions and Matriculation Board JAMB Change of Course & Institution / Data Correction Procedure 2021
JAMB Subject Combinations for Courses in the Arts
JAMB Subject Combinations for Courses in the Social Sciences
JAMB Subject Combinations for Courses in the Sciences
JAMB Recommended Books for Music
JAMB Recommended Books for Mathematics
Requirements to Start a JAMB CBT Centre
Joint Admissions and Matriculation Board JAMB Form  – Registration Instructions and Guidelines