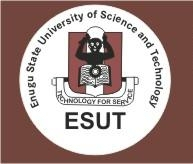 We are aware at mytopschools.com that Fresh List Of Courses Offered In ESUT (Enugu State University of Science and Technology, Enugu) is been searched by several aspirants wanting to study in the University as well as related searches such as courses offered in esut and cut off mark, esut courses and cut off marks, enugu state university of science and technology school fees, does esut offer nursing, list of courses offered in esut and their cut off marks, is nursing accredited in esut, does esut offer radiography, does esut offer international relations.
The Enugu State University of Science and Technology (ESUT) is a university in Nigeria that was founded as ASUTECH on July 30, 1980.
The university was conceived with the aim to establish an institution that must be closely related to society, its industry and above all, serve as a catalyst in the technological advancement of the people, hence the university's motto remains "Technology for Service".
The enactment of the law establishing the university by the then Anambra State House of Assembly was followed by the appointment of late professor.
Kenneth Onwuka Dike as the first President and Chief Executive of the university and the inauguration of the first Provisional Council of the University with late Professor Onwuka Dike as its first Chairman/President. (Oct 1980 – Oct 1983).
Faculties
Faculty of Agricultural & Natural Resources Management
Faculty of Applied Natural Sciences
Faculty of Education
Faculty of Engineering
Faculty of Environmental Sciences
Faculty of Law
Faculty of Management Sciences
Faculty of Pharmaceutical Sciences
Faculty of Social Sciences.
Fresh List Of Courses Offered In ESUT
ACCOUNTING
ADULT EDUCATION
AGRIC-ECONOMICS AND EXTENSION
AGRICULTURAL ENGINEERING
AGRICULTURAL SCIENCE AND EDUCATION
AGRICULTURE
AGRONOMY
ANATOMY
ANIMAL SCIENCE AND FISHERIES MANAGEMENT
APPLIED BIOLOGY
APPLIED MICROBIOLOGY
BANKING AND FINANCE
BIOCHEMISTRY
BIOLOGY
BUILDING
BUILDING AND WOODWORK TECHNOLOGY EDUCATION
BUSINESS ADMINISTRATION
BUSINESS EDUCATION
CHEMICAL ENGINEERING
CIVIL ENGINEERING
COMPUTER ENGINEERING
COMPUTER SCIENCE
COOPERATIVE AND RURAL DEVELOPMENT
ECONOMICS
EDUCATION /MECHANICAL TECHNOLOGY
EDUCATION AND BIOLOGY
EDUCATION AND CHEMISTRY
EDUCATION AND COMPUTER SCIENCE
EDUCATION AND INTEGRATED SCIENCE
EDUCATION AND MATHEMATICS
EDUCATION AND PHYSICS
EDUCATIONAL ADMINISTRATION AND SUPERVISION
EDUCATIONAL FOUNDATIONS
EDUCATIONAL MANAGEMENT
ELECTRICAL/ELECTRONICS EDUCATION
ELECTRICAL/ELECTRONICS ENGINEERING
ESTATE MANAGEMENT
FOOD SCIENCE AND TECHNOLOGY
GEOGRAPHY AND METEOROLOGY
GEOLOGY AND MINING
GUIDANCE AND COUNSELLING
INDUSTRIAL MATHEMATICS /APPLIED STATISTICS
INDUSTRIAL CHEMISTRY
INDUSTRIAL PHYSICS
INSURANCE AND RISK MANAGEMENT
LAND SURVEYING
LAW
LIBRARY SCIENCE
MARKETING
MASS COMMUNICATION
MATHEMATICS AND STATISTICS
MECHANICAL/PRODUCTION ENGINEERING
MEDICAL LABORATORY SCIENCE
MEDICINE AND SURGERY
METALLURGICAL AND MATERIAL ENGINEERING
MICROBIOLOGY
PHARMACY
PHYSICAL AND HEALTH EDUCATION
POLITICAL SCIENCE
PSYCHOLOGY
PUBLIC ADMINISTRATION
QUANTITY SURVEYING
SOCIOLOGY AND ANTHROPLOGY
SURVEYING AND GEOINFORMATICS
TECHNOLOGY AND VOCATIONAL EDUCATION
URBAN AND REGIONAL PLANNING
VOCATIONAL AND TECHNICAL EDUCATION
That's the much we can take on the topic "Fresh List Of Courses Offered In ESUT (Enugu State University of Science and Technology, Enugu)".
Thanks For Reading
MYTOPSCHOOLS TEAM