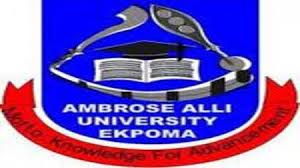 We are aware at mytopschools.com that Fresh List Of Courses Offered In AAU (Ambrose Alli University, Ekpoma is been searched by several aspirants wanting to study in the University as well as related searches such as ambrose alli university science courses, list of accredited courses in aau, aau courses and cut off mark, ambrose alli school fees, is nursing accredited in aau, ambrose alli university cut off mark, aau jamb cut off mark for all courses, ambrose alli university school fees 2020/2021.
Ambrose Alli University (AAU) is a university in Nigeria established in 1981. It was established by the then governor of Bendel State (now Edo and Delta States), Professor Ambrose Folorunsho Alli (1979–1983). First known as Bendel State University, then Edo State University, it was later changed to its present name in commemoration of Professor Ambrose Folorunso Alli. It is accredited and recognized by the National Universities Commission (NUC). The institution is currently digitizing its operations to a world class level by 2020, with the aim of making it the best state-owned university in Nigeria.
The current Vice Chancellor is Prof. Ignatius Onimawo AAU is today reputable for its unique deployment and application of Information and Communications Technology (ICT) in every aspect of the day to day running of the institution. The VC, Prof. Onimawo has infused a new model in lecturing and examination at the university
Faculties
Faculty of Agriculture
Faculty of Arts
Faculty of Communication Sciences
Faculty of Education
Faculty of Engineering & Technology
Faculty of Environmental Studies
Faculty of Law
Faculty of Life Sciences
Faculty of Management Sciences
Faculty of Medical Laboratory Science
Faculty of Physical Sciences
Faculty of Social Sciences
College of Medicine
Faculty of Basic Medical Sciences
Faculty of Clinical Sciences
Fresh List Of Courses Offered In AAU
ACCOUNTING
AGRIC-ECONOMICS AND EXTENSION
AGRICULTURAL SCIENCE AND EDUCATION
AGRICULTURE
ANATOMY
ANIMAL SCIENCE
APPLIED PHYSICS
ARCHITECTURE
BANKING AND FINANCE
BIOCHEMISTRY
BOTANY
BUILDING
BUSINESS ADMINISTRATION
BUSINESS EDUCATION
CHEMISTRY
CIVIL ENGINEERING
COMPUTER SCIENCE
CURRICULUM AND INSTRUCTION
ECONOMICS
EDUCATION AND BIOLOGY
EDUCATION AND CHEMISTRY
EDUCATION AND ECONOMICS
EDUCATION AND ENGLISH LANGUAGE
EDUCATION AND FRENCH
EDUCATION AND GEOGRAPHY
EDUCATION AND HISTORY
EDUCATION AND MATHEMATICS
EDUCATION AND PHYSICS
EDUCATION AND POLITICAL SCIENCE
EDUCATION AND RELIGIOUS STUDIES
EDUCATION FOUNDATIONS AND MANAGEMENT
EDUCATIONAL FOUNDATIONS
ELECTRICAL/ELECTRONICS ENGINEERING
ENGLISH LANGUAGE
FINE/APPLIED ARTS
FRENCH
GEOGRAPHY AND REGIONAL PLANNING
GEOPHYSICS
GUIDANCE AND COUNSELLING
HEALTH EDUCATION
HISTORY AND INTERNATIONAL STUDIES
HOME ECONOMICS AND EDUCATION
HUMAN NUTRITION AND DIETETICS
INDUSTRIAL AND PRODUCTION ENGINEERING
INDUSTRIAL CHEMISTRY
INDUSTRIAL MATHEMATICS
LAW
LIBRARY AND INFORMATION SCIENCE
MATHEMATICS
MECHANICAL ENGINEERING
MEDICAL LABORATORY SCIENCE
MEDICINE AND SURGERY
MICROBIOLOGY
NURSING/NURSING SCEINCE
PHILOSOPHY
PHYSICAL AND HEALTH EDUCATION
PHYSICS
PHYSIOLOGY
POLITICAL SCIENCE
POLITICAL SCIENCE AND PUBLIC ADMINISTRATION
PRE-PRIMARY AND PRIMARY EDUCATION
PSYCHOLOGY
PUBLIC ADMINISTRATION
RELIGIOUS AND CULTURAL STUDIES
RELIGIOUS STUDIES
SOCIOLOGY
SOIL SCIENCE
STATISTICS
TECHNICAL EDUCATION
THEATRE AND MEDIA ARTS
VOCATIONAL AND TECHNICAL EDUCATION
ZOOLOGY
That's the much we can take on the topic "Fresh List Of Courses Offered In AAU (Ambrose Alli University, Ekpoma ".
Thanks For Reading
MYTOPSCHOOLS TEAM