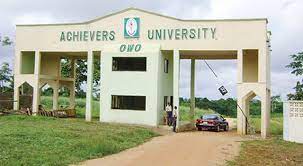 We are aware at mytopschools.com that Achievers University JUPEB Admission Form 2022/2023 is been searched by several aspirants wanting to study in the University
Applications are invited from suitably qualified candidates for admission to the following JUPEB Degree programmes of the Achievers University, Owo for the 2022/2023 academic session:
Candidates who successfully complete ONE-YEAR programme, after examinations administered by JUPEB, will gain Direct Entry admission to 200 Level Degree programmes of Achievers University and other Universities in Nigeria.
The University, through highly qualified tutors, provides intensive lectures in relevant subject combinations by highly qualified tutors in line with JUPEB syllabus in the following subject combinations:
BCP- Biology/Chemistry/Physics
MGE-Mathematics/Geography/Economics
EGL-Economics/Government/Literature-in-English
GLR-Government/Literature-in-English/Religious Studies
AEG-Accounting/Economics/Geography or Government
CMP-Chemistry/Mathematics/Physics
EGM-Economics/Government/Mathematics
BEG-Business Management/Economics/Government
ABG/Accounting/Business Management/Geography or Governement
A. COLLEGE OF SOCIAL AND MANAGEMENT SCIENCES (COSMAS)
B.Sc. Accounting – MGE, AEG, EGM, BEG, ABG
B.Sc. Banking & Finance – MGE, AEG, EGM, BEG, ABG
B.Sc. Business Administration – MGE, AEG, EGM, BEG, ABG
B.Sc. Economics – MGE, AEG, EGM, BEG, EGL
B.Sc. Political Science – AEG, EGM, BEG, EGL, GLR, ABG
B.Sc. International Relations – AEG, EGM, BEG, EGL, GLR, ABG
B.Sc. Public Administration – AEG, EGM, BEG, EGL, ABG
B.Sc. Sociology – AEG, EGM, BEG, EGL, ABG
B.Sc. Criminology & Security Studies – AEG, EGM, BEG, EGL, ABG
B. COLLEGE OF NATURAL AND APPLIED SCIENCES (CONAS)
B.Sc. Microbiology – BCP
B.Sc. Industrial Chemistry – BCP, CMP
B.Sc. Biochemistry – BCP
B.Sc. Geology – CMP
B.Sc. Computer Science – CMP
B.MLS Medical Laboratory Science – BCP
B.NSc. Nursing Science – BCP
ADMISSION REQUIREMENTS
Eligible candidates must possess a minimum of five credits obtained at not more than two sitting in WAEC (SSCE) or NECO (SSCE).