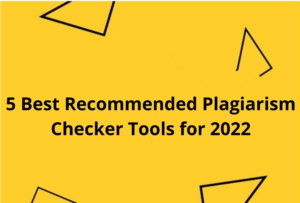 If you want your content to stand out against the competition, then it needs to be perfect in every sense of the word. Besides proper punctuation, grammatical prowess, and informative value, avoiding Plagiarism is necessary.
More than 36% of students in USA admitted that they paraphrase and copy content from online sources. On top of that, 29% of websites feature duplicate content. Now, there's a difference since you can imitate something, but blatant copying or duplicating is harmful.
Because if google catches a whiff of Plagiarism, you can say goodbye to hopes of high-ranking for your website. Plagiarism is the cardinal sin in the writing community: SEO, academic, technical, etc. Not only because it compromises the integrity, but it also casts a long shadow on the writer.
However, the process of catching Plagiarism can be a tricky one. You cannot run sentence after sentence through Google search to ensure their integrity and originality. That is when plagiarism tools step in.
Why Use Plagiarism Checkers?
As mentioned before, Plagiarism is something highly looked down upon in the writing community. If you are looking to write an SEO article, it needs to be original for the search engine crawler to rank it. Otherwise, you risk getting your website blacklisted.
In other forms of writing, such as academic or technical, plagiarized work does not see the light of day at all. If you submit something plagiarised, intentional or not, it would never move past the QA (quality assurance) phase. Moreover, it might compromise your career as a writer.
That is when Plagiarism checking tools help you out. Not only do they ensure helping you stand out with original content, but they also ensure your integrity as a writer. These tools help you get rid of poorly rephrased content.
So, do you think anyone would be willing to hire a writer with plagiarized work? Now, common phrases, verbs, and quotes are exempt. Because you cannot write an entirely new sentence in the English language that someone has not written before.
While you can research and take inspiration from content online, sometimes you can commit unintentional Plagiarism. That's when these tools suggest you rephrase a sentence, paragraph, or even a whole article. This way, it helps it make original.
Moreover, the overlapping Plagiarism in the online world can also be harmful to your online presence. In other words, Google won't list your website. It might even blacklist you. So, that's why you need a viable plagiarism checker.
Top Five Plagiarism Checkers
Checking Plagiarism is no easy feat. You can spend a good chunk of your day going through your written articles. However, these five tools can help you cut that time in half and check the bulk of the content for Plagiarism.
1. Check-Plagiarism.com
Price                                        Free
Website                                   https://www.check-plagiarism.com/
Other Features                      Paraphrasing, Grammar Check
Check Plagiarism's tool is one of the best and perhaps the easiest tool to use on this list. This web app allows you to open your word document or copy and paste your content into the dialogue box. The choice is yours, but both of them are very convenient.
For instance, if your article in a word document form features images and quotes, it totally avoids those two. This process saves you a lot of hassle by not pointing out unnecessary Plagiarism. Many plagiarism-checking tools would even catch common sentences or phrases.
The word capacity on Plagiarism Checker is 15,000 words. It's safe to say you can check up to 20-25 pages in a go. Perhaps the most convenient part about this plag checker is the percentage system. It helps you understand whether your work is in unacceptable plagiarism territory or not.
Pros-
√ Absolutely free, no sign up required
√ Capacity of 15,000 words in a go
√ Multiple file support, including DOCx, and PDF
√ URL exclusion, in case you want it to avoid certain websites
√ Simple and swift
Cons-
√ None so far
2. Grammarly
Price                                             *Monthly $12 for Premium, 12.50 for Business Premium.
Website                                          www.Grammarly.com
Other Features                            Paraphrasing, Grammar Check, Tone Correction, Tone
Selection
Let's head into the paid Plagiarism checking territory. Grammarly is one of the most common and famed tools for writers around the globe. This revolutionary tool has helped many writers over the years.
While the tool's leading trade is to fix grammatical errors, the premium membership's plagiarism checker is remarkable. It provides a comprehensive outlook on the potential and entirely identical content.
It also gives you various other options, such as tone checking, alternative/better words, sentence flow, etc. All these features make it one of the top plagiarism checkers available today.
Pros-
√ Plethora of features
√ Website exclusion
√ Tone selection & correction
√ Reduces redundancy
Cons-
√ Premium features only on paid tool
√ Could be a little expensive for students
3. Prepostseo
Price                                     *per month $10 for Basic tool, $20 for Standard, $45 for Company
Website                                https://www.prepostseo.com/plagiarism-checker
Other Features                    Paraphrasing, Grammar Check, PDF to Word, Text
Comparison
Prepostseo advertises itself as "free and intelligent." The tool delivers on the promise of being one of the most accessible content-checking software available today. You can check up to 25k words at a time if you buy the premium version.
Otherwise, you can check 1000 words at a time. It might be problematic for people looking to contain long-form content. However, the checker itself does a remarkable job of fishing out any duplicity in your content.
It also gives you the option of checking grammatical errors. However, the prowess of Plagiarism Detector's grammar checker is not as good as Plagiarism Checker or Grammarly. Yet, it does deliver an outstanding accuracy when checking for Plagiarism.
Pros-
√ Clean and quick
√ Upto 25k words on paid version
√ Grammar corrector
Cons-
√ Good features only on paid version
√ A bit expensive in comparision to Grammarly
4. plagiarismcheckertool
Price                                             *per month Totally free
Website                                        www.plagiarismcheckertool.com
Other Features                            Paraphrasing, Grammar Check, Word Counter, Spell Check
Plagiarism checker tool is an outstanding tool for people seeking a simple tool. It's designed specifically for SEO writers, as it fished out a digital marketing platform for duplicate content. It also offers paraphrasing and grammar correcting tools.
However, the only drawback for this platform might be the 1000 word limit. So, if that's something you don't mind, then Dupli Checker has everything you need to check Plagiarism.
Pros-
√ 10k words on paid version
√  URL & File selection for plag check
√ Swift and Simple
Cons-
√ UI can be a bit confusing
√ Only 1000 word free check
√ Grammar check can skip errors
5. Copyleaks
Price                                                        *per month From $9.16 upto $566.66
Website                                                    www.copyleaks.com
Other Features                                        Paraphrasing, Grammar Check, Word Counter, Spell Check
Copyleaks directs its services towards students and writers of academic nature. Its eagle eye does not let any duplicate content slip through by analyzing thousands of projects from around the globe. Moreover, Copyleaks is also one of the best tools for checking paraphrased content.
Putting the cherry on the top, regardless of your writing style or requirement, helps you with structures, formatting, etc. Making it one of the best five tools you can use today to check Plagiarism.
Pros–
√ Downloadable
√ Trial tool is quick
√ Upto 100 documents at a time
Cons-
√ Not suitable for enterprises
√ Paid Only
√ Expensive
Conclusion
These five tools are some of the best tools you can use today. Each offers something unique, but Plagiarism Checker stands out with its plethora of options.